Overview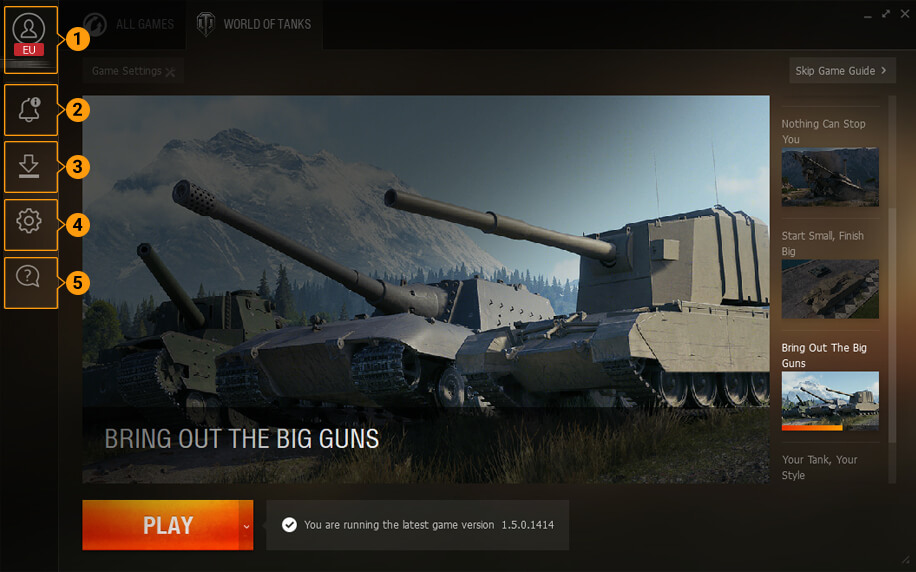 Multi-login option. Log in to the game from different Wargaming.net accounts and switch between them.
Update awareness. You'll never miss out on any important game or app updates.
Manageable updates. Queue, pause, or even cancel game installations and updates.
Total control. You can initiate automatic updates for installed games. You can also manually set the download speed and distribution of updates to lessen the load on your Internet connection.
Timely assistance. Any technical issues you encounter can be sent to Game Center Support.
How to use multi-login
If you're new to the Wargaming universe, create an account to get started.
Logging in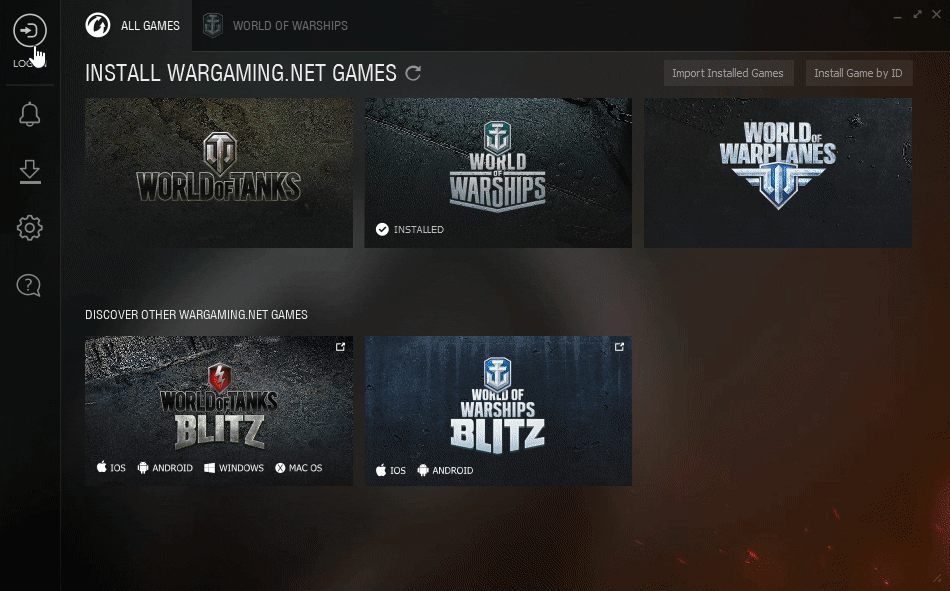 Click [LOG IN] in the top left corner of the app.
Select your region and enter your login details.

Select [Remember me] to automatically log in to this account every time you launch Game Center.

Click [LOG IN].
Adding an Account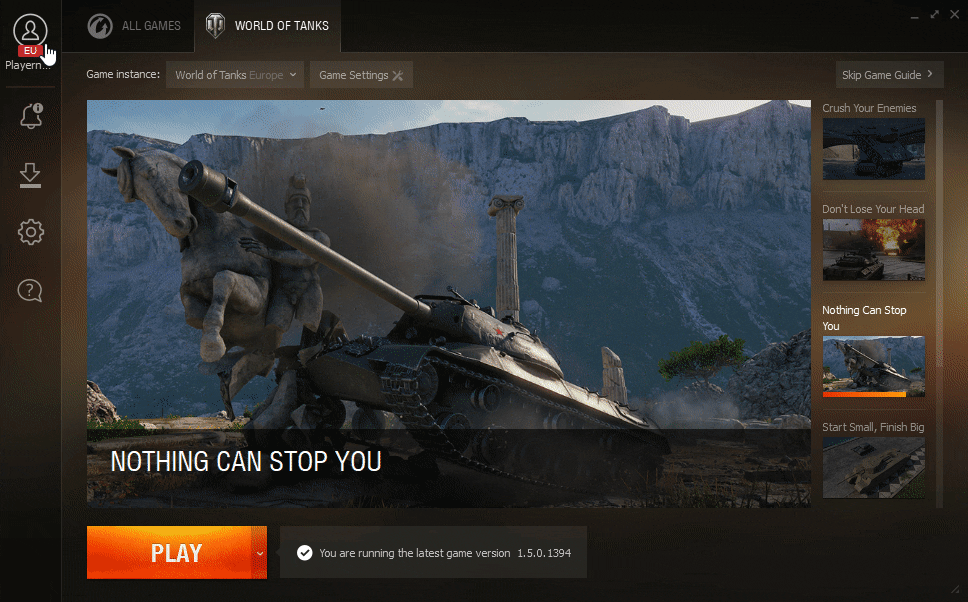 Log in to your account and click your Profile in the top left corner of the app.
Click [Add Account] at the bottom of the Profile panel.
Select a different region (if necessary) and enter your credentials.
Click [LOG IN].
To switch between various accounts, click your Profile and select the account from the list. If you do not want to enter your password every time you switch accounts, select [Remember me].
How to install games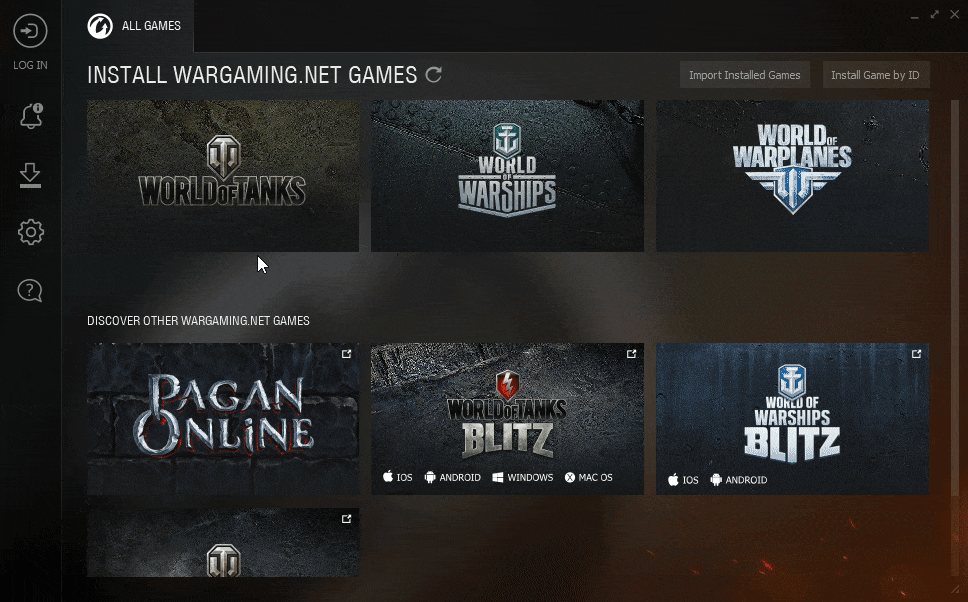 Go to the [ALL GAMES] tab and select a game.
Select the region, language, client type, and installation folder.

Keep an eye on the disk space required.

Read and accept EULA, then click [INSTALL].
The game will start downloading.

If you run another game via the Game Center, the download will be paused. You can manually resume the download from the app. Otherwise, the download will continue when you exit the current game.

When the download is completed, you'll get a pop-up message.
Click [PLAY].
You can pause the game download or update it manually and resume at your own convenience.
How to change the language or install an additional game client from another region
Go to the Game Settings menu: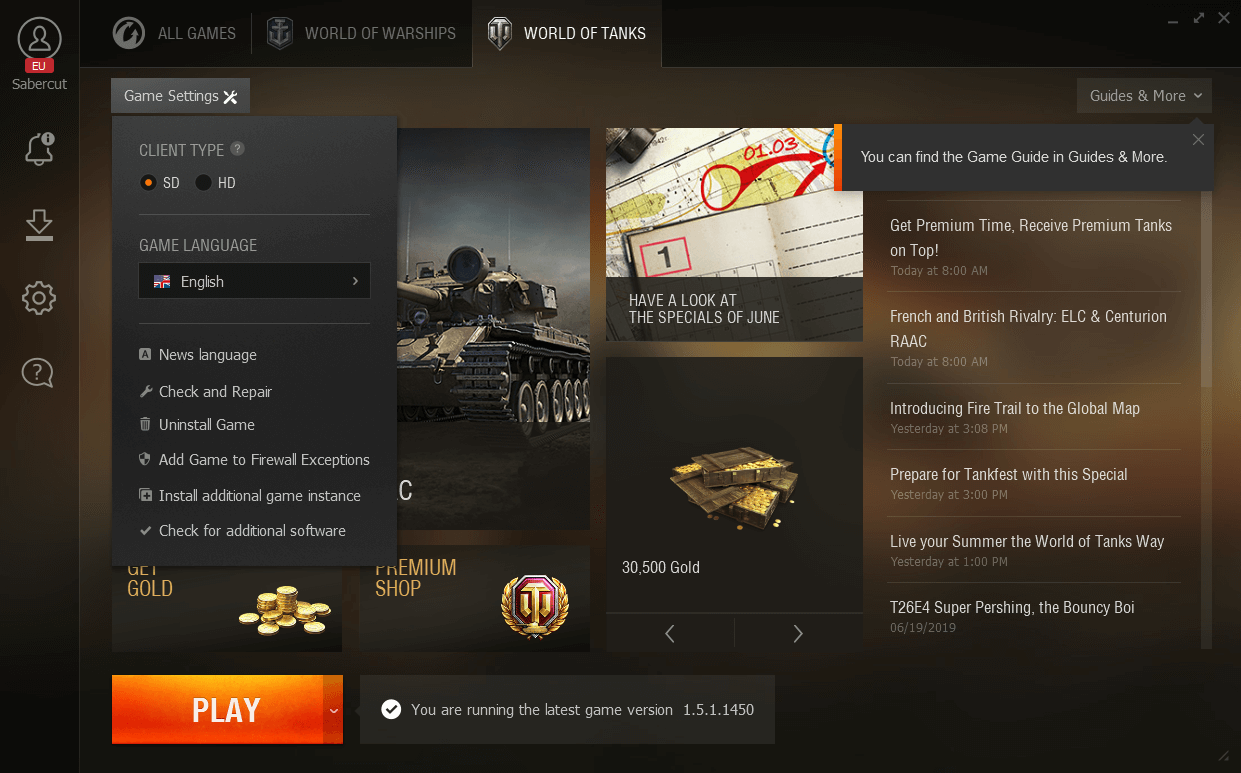 How to import games
You can import Wargaming titles already installed on your computer: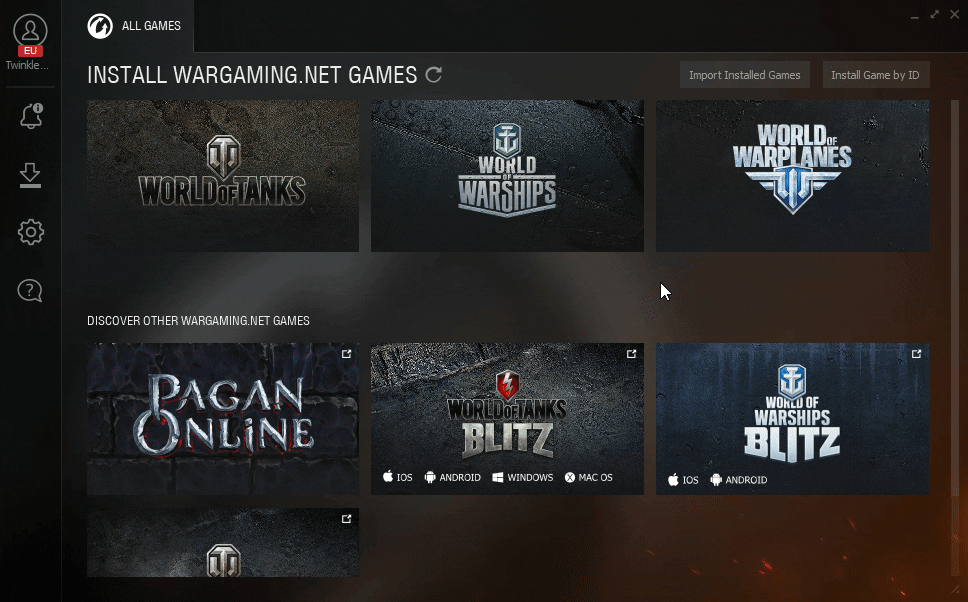 Go to the [ALL GAMES] tab.
Select [Import Installed Games] in the top right corner. The app will search for games currently installed.
If Game Center doesn't find a game, click [SELECT FOLDER]. Find the game folder and click [IMPORT].
Click [DONE] to verify imported games.
How to select a WoT server before entering the Garage
By default, the Game Center selects a game server with optimal ping and capacity. You can change this by entering [Settings] and activating the server choice option: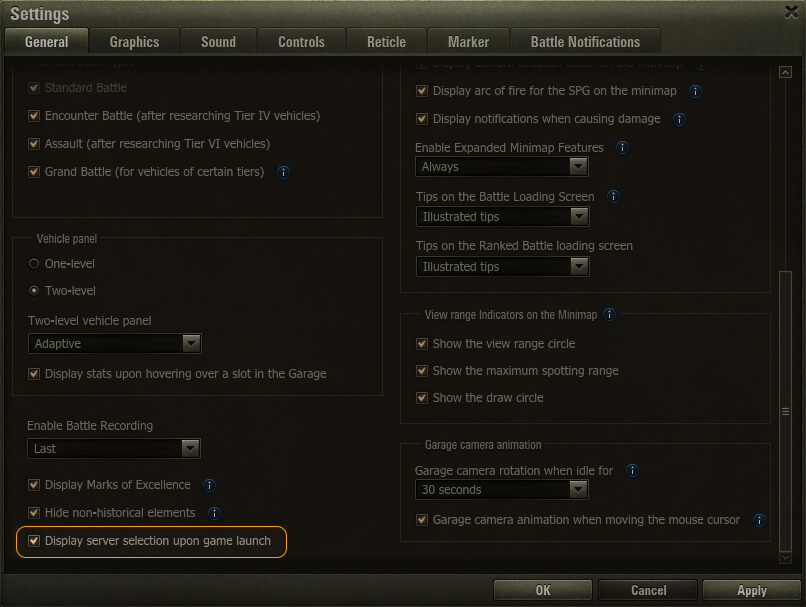 How the Game Center utilizes PC resources
By default, the Game Center runs in the background and minimized in your system tray. The installation of updates and imports utilizes minimal PC resources.
If you want to speed up the installation process, you can enable [Use of all computer resources] during installation options (Game Center Settings > Updates). Alternatively, you can select an option to save resources while downloading and installing game updates.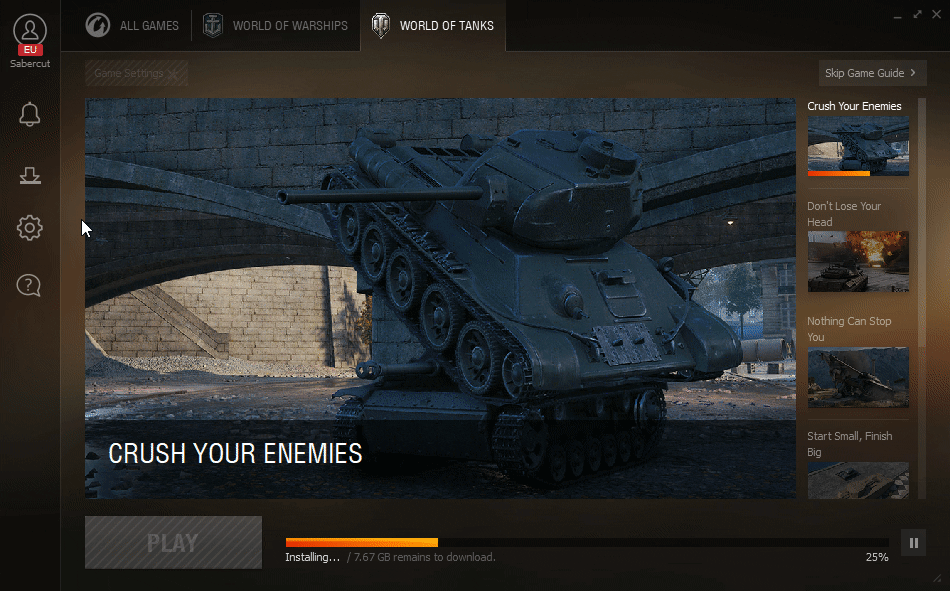 How the Game Center affects Internet traffic consumption
There is no significant impact on your network when Game Center runs in the background. It periodically checks for updates and notifications by sending simple HTTP requests with minuscule traffic consumption.
News, tutorials, and special deals are uploaded only when you activate the app and only for the specific game launcher you are currently viewing. The network load slightly increases, but the overall traffic consumption remains minimal.