What are Personal Reserves?
Personal reserves are a customizable bonus that players can apply to their playtime. These bonuses allow you to more quickly farm experience, credits, or in some cases special event progress.
The following types of Personal Reserves will be commonly available to players:
Increased Crew Experience
Increased Combat Experience
Additional Free Experience
Additional Credits
How Do I Earn a Personal Reserve?
Personal Reserves are earned when a player completes specific missions, which will become visible in the Missions tab once they are activated, and can be completed only in Random Battles. Personal Reserves can also be earned as a part of special events missions.
Most Personal Reserves do not have an expiration date unless otherwise noted.
How Do I Activate a Personal Reserve?
1) Click on your nickname in the top left of the Garage heading.
2) Select one of the open slot icons by clicking on it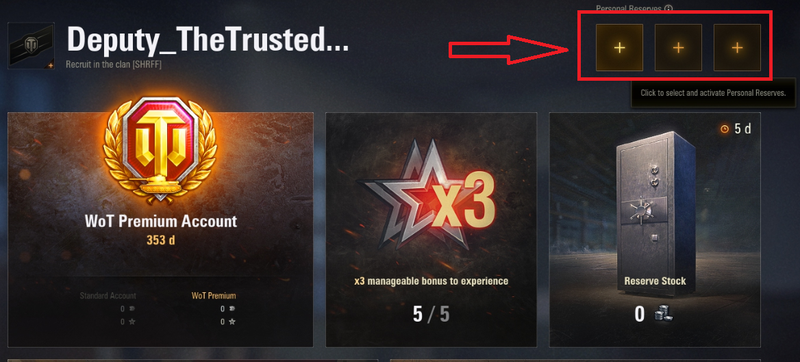 3) Activate an acquired reserve

Personal Reserves of the same type do not stack.
Example:
If you activate a Personal Reserve for an Experience boost, say +100% XP, this is not affected by a bonus multiplier, (x2) (x3) (x5), the +100% XP, in this case, would be calculated using the base earnings only.
How Can I see my active boosters?
You can see which boosters are active in the same location as you activated them:

You can also see your boosters taking effect in the after battle screen: