Enrichment allows you to increase the profitability of researchable Tier V–X vehicles using gold. There are two types of enrichment: temporary enrichment that is effective for 14 days and permanent enrichment. The increase in profitability does not depend on whether your tank is temporarily or permanently enriched.
An enriched tank earns more credits in battle while its resupply and repair costs remain unchanged. This means that not only will your earnings increase, but also your net income from this vehicle will go up.
The screenshot below shows an example of how enrichment affects income using the total results of ten battles in the STA-1.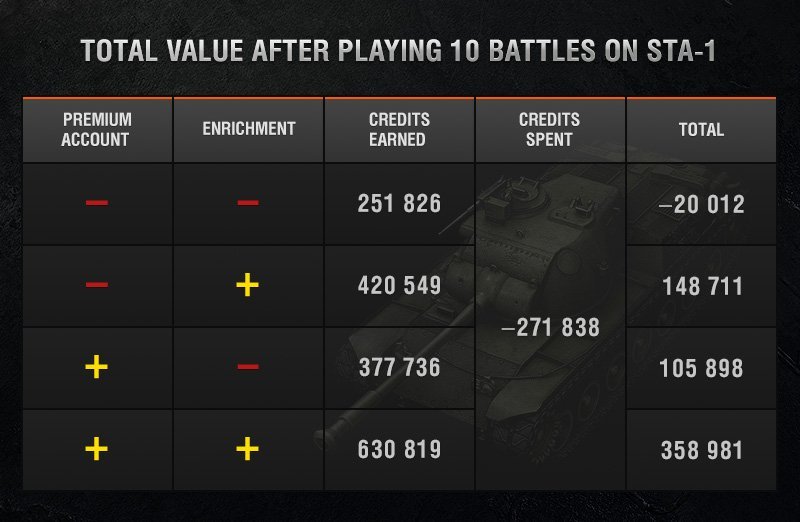 How to Enrich a Tank?
1. Select a vehicle between Tier V and X and go to the Upgrades menu. Tap Enrich.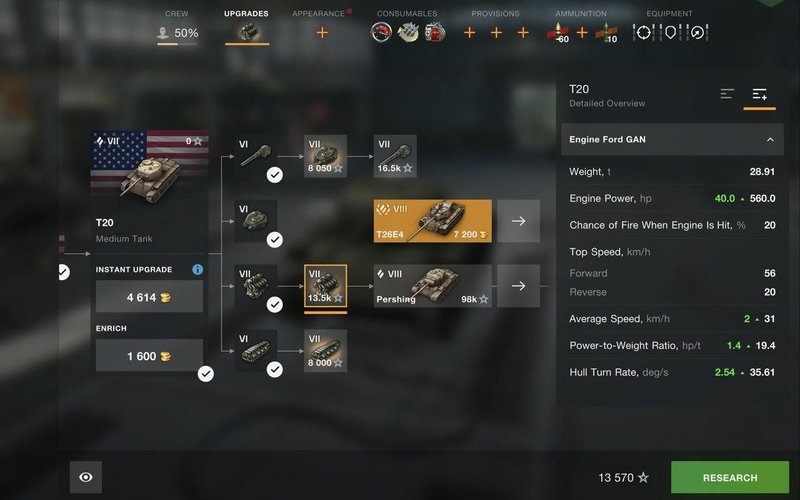 2. The window will offer you the choice between permanent and temporary enrichment. Select the desired option and tap Enrich.
3. Confirm the purchase.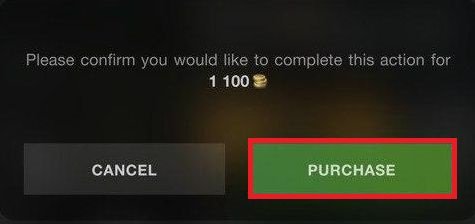 Please be aware that to improve the game balance, we sometimes change the combat parameters of researchable tanks. These changes may affect enriched vehicles, but this will not affect their profitability.
Temporary Enrichment
This enrichment is valid for 14 days and is available for all Tier V–X researchable vehicles:
Tier V: 750 gold
Tier VI: 1100 gold
Tier VII: 1600 gold
Tier VIII: 2300 gold
Tier IX: 2300 gold
Tier X: 2300 gold
You cannot extend, suspend, or cancel the temporary enrichment. The clock will keep ticking, even if the tank is sold.
Permanent Enrichment
Some vehicles can be permanently enriched.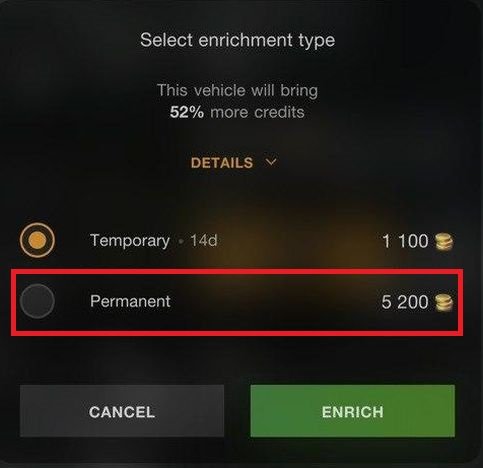 Tier V
VK 30.01 (H): 5,200 gold
StuG III Ausf. G: 5,400 gold
M4 Sherman: 5,000 gold
M10 Wolverine: 5,300 gold
Crusader: 4,700 gold
Churchill I: 4,200 gold
Type 3 Chi-Nu: 4,400 gold
Tier VI
SU-100: 9,000 gold
VK 36.01 (H): 8,700 gold
Nashorn: 8,700 gold
M4A3E8 Sherman: 9,200 gold
M6: 9,200 gold
M36 Jackson: 9,000 gold
AT 8: 9,200 gold
Churchill Gun Carrier: 7,200 gold
Type 4 Chi-To: 8,000 gold
Tier VII
KV-3: 14,000 gold
SU-100M1: 19,000 gold
Panther I: 15,600 gold
VK 30.02 (D) — 14 200 золота;
VK 30.02 (D): 14,200 gold
Tiger I: 14,700 gold
Tiger (P): 15,200 gold
T25/2: 15,700 gold
T25 AT: 14,500 gold
Black Prince: 14,600 gold
AT 7: 14,200 gold
Type 5 Chi-Ri: 13,700 gold
Tier VIII
T-44: 20,200 gold
KV-4: 18,400 gold
SU-101: 19,100 gold
Panther II: 19,800 gold
Indien-Panzer: 20,600 gold
VK 45.02 (P) Ausf. A: 18,000 gold
Ferdinand: 19,500 gold
M26 Pershing: 19,800 gold
T32: 18,300 gold
T28 Prototype: 18,500 gold
Centurion Mk. I: 18,300 gold
Caernarvon: 17,600 gold
STA-1: 20,000 gold
The enriched vehicles will retain their status even if sold and then repurchased.